pco.flim

Luminescence lifetime imaging camera
The pco.flim camera system is the first luminescence lifetime imaging camerausing a two tap CMOS image sensor. The camera can internally generate a wide range of frequencies and will also accept external modulation signals within a limited range of frequencies.  
It features a variety of trigger input and output signals for easy system integration. Special software provides direct measurements and lifetime analysis. 
100ps - 100µs lifetimes measurable
5kHz - 40MHz modulation frequencies
500kHz – 40MHz external modulation signals
modulation signal shape sinusoidal / rectangular
1008 x 1008 pixel resolution
frequency domain FLIM
USB 3.0 interface
39% quantum efficiency
1000:1 dynamic range
45 e- rms readout noise
90 fps frame rate (2 tap readout)
10 ns to 10 s selectable exposure times
vibration-free water cooling
special software for measurement and analysis
parameter
unit
setpoint
pco.flim
resolution
(hor x ver)
pixel
 
1008 x 1008
pixel size
(hor x ver)
 
 
5.6 x 5.6
modulation frequency (out)
 
 
5 kHz - 40 MHz
modulation frequency (in)
 
 
500 kHz - 40 MHz
peak quantum efficiency
%
 
39
dynamic range A/D
bit
 
14
​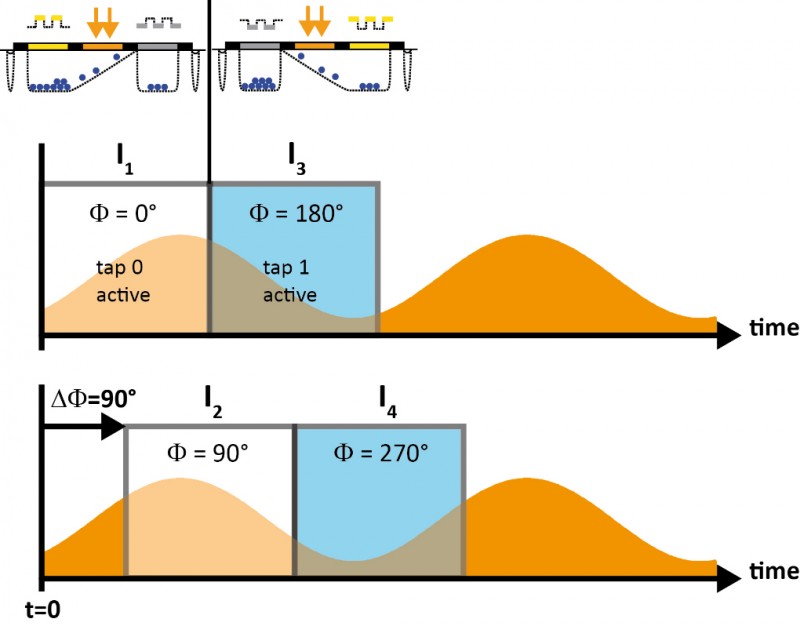 Pixel charge swing and corresponding sinus signal integration of the two taps.​
Fluorescence Lifetime Imaging (FLIM)
 , 
Phosphorescence Lifetime Imaging (PLIM)
, 
​
FRET measurements with FLIM
Pressure Sensitive Paint (PSP)
, 
​
Temperature Sensitive Paint (TSP)
, 
​
Optical chemical sensing
​